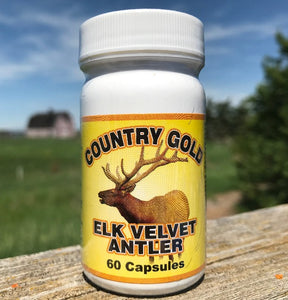 Organica Shopping Centre
Elk Velvet Antler 60 caps.
Regular price
$30.00
Sale price
$34.00
Antler Velvet is a 
renewable resource.

 
New Antler Velvet regrows every year. At Country Gold all animals are grass-fed and pasture-raised providing no stress to the animals. In this environment, elk have a great long life approaching close to 2 decades at times.​ This astonishing discovery in natural medicine has many beneficial properties.
that include but not limit to helping adrenals and promoting HGH (Human Growth Hormone) production in body.
Country Gold's Elk Velvet Antler is commonly used for:

Arthritis comfort and joint health​
Improving endurance and performance
Improving cellular repair and healing from injury/ surgery
Energy loss due to ageing or health recovery
Improving fertility.
improving red blood cell production
Improving immune activity and metabolism
Ingredients: Pure Elk Velvet Antler Powder. No fillers or additives. Freeze-dried for the best retention of nutrients.
Directions: As directed  In case of pain 3 caps a day can be taken.
60 capsule (1 month supply)
About Country Gold
Country Gold Health Products (est. 1995) is located southeast of Saskatoon, Saskatchewan. Country Gold's Elk Velvet capsules are Health Canada certified natural product NPN #80041148. The process is also GMP certified (as set out by the Government of Canada and has the Health Canada Facility license. ​
---
More from this collection