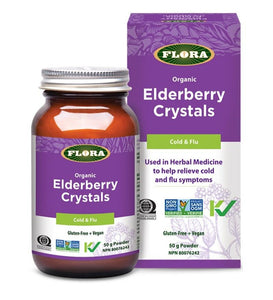 Organica Shopping Centre
Flora Elderberry Crystals - Cold & Flu
Regular price
$15.00
Sale price
$17.00
Gluten-Free, Non-GMO, Organic and Vegan!
Add Flora Elderberry Crystals to your favourite juice or smoothie for a convenient and delicious boost daily, or whenever you feel the symptoms of seasonal issues coming on.

About Elderberries:

Used in Herbal Medicine to promote sweating (diaphoretic), to help relieve fever
Used in Herbal Medicine to help relieve symptoms of colds and flus
Used in Herbal Medicine as an alterative to help remove accumulated waste products via the kidneys, skin and mucus membranes
Strong source of antioxidant(s)

Incredibly tasty!
Suitable for Children and Adults.
About Flora
 Flora Manufacturing and Distributing Ltd.,  is a privately owned Canadian, nutraceutical manufacturer established in 1965 known for high quality whole food supplements, full-spectrum botanical extracts, unrefined seed oils, and European health tonics.
---
More from this collection