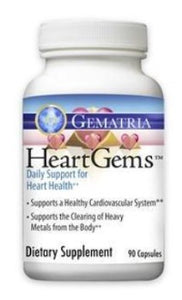 Dr. Taebi
Gematria HeartGems 90 Caps
Regular price
$41.00
$0.00
The nutrients in Gematria HeartGems support complete cardiovasular functions and serotonin production in the body. HeartGems also support healthy bowel functions as well as providing the best chelated zinc and magnesium available today.
The powerful activated combination of powerful nutrients specifically for supporting blood vessels, mood, and energy and preventing the occurrence of Homocysteine, a harmful amino acid which is highly toxic to blood vessels.
About Gematria
Gematria Products, Inc., based in Carlsbad, CA, creates ultra-quality dietary supplements with Qi Technology. The Qi Technology developed by Dr. Todd Ovokaitys, is an electromagnetic resonance technology that enhances the bioavailability of nutritional molecules to their most natural form. The body recognizes, accepts, and assimilates the molecule more readily for greater impact on the body.
Organica inc is the only Canadian supplier of Gematria Products.
---
More from this collection