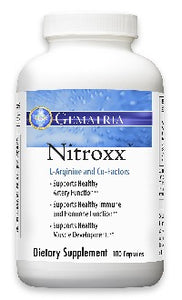 Organica inc. - Gematria.ca
Gematria Nitroxx 180 Caps
Regular price
$51.00
$38.00
NITROXx™ is a cofactor rich arginine supplement that goes beyond all prior technologies. Through a patented process of holographically engineered structured energy potentials, the arginine molecule is reshaped and potentized to make it more biologically active. As lasers are used to construct the holograms, the treated material is said to be laser enhanced. Assays of biological activity have shown that the holographically laser enhanced arginine is significantly more biologically potent than ordinary arginine. Human immune cells fed with the arginine in NITROXx™ produced significantly more nitric oxide than if the cells were fed ordinary arginine, an up-to 600% increase in nitric oxide production over baseline.
A short list of the scientifically demonstrated benefits of arginine-derived nitric oxide is as follows:

Increase energy levels
Improve blood flow to 

cognitive activities

Maintain normal blood pressures
Support arteries
Stimulates Human Growth Hormones (HGH)

Regulates the tone of airways in the lungs

Reduces risk of cardiovascular damage due to high cholesterol and fatty cells

Supports overall immune system 

Helps reduce muscular fatigue during exercise
Directions: The recommended initial use of Nitroxx is 2-3 times daily. Do not exceed 3 doses. Taking it with a small amount of carbohydrate may facilitate absorption, whereas protein can interfere with absorption. Do not exceed 3 doses.
***Take as directed. 
Precautions: Do not take with medicines that act on the nitric oxide mechanism, such as Viagra for impotence or nitrates for cardiac disease. May aggravate herpes eruptions, which taking 3-6 grams of L-lysine per day may counteract.
Should not be taken by individuals under 21, schizophrenic persons and pregnant and lactating women. Should not be used while taking anticoagulant & antiplatelet drugs, such as Coumadin.

About Gematria
Gematria Products, Inc., based in Carlsbad, CA, creates ultra-quality dietary supplements with Qi Technology. The Qi Technology developed by Dr. Todd Ovokaitys, is an electromagnetic resonance technology that enhances the bioavailability of nutritional molecules to their most natural form. The body recognizes, accepts, and assimilates the molecule more readily for greater impact on the body.
Organica inc is the only Canadian supplier of Gematria Products. 
---
More from this collection