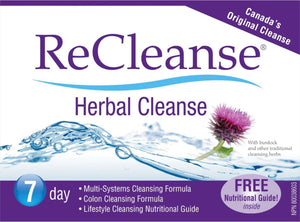 Organica Shopping Centre
ReCleanse - 7-Day Liver and Bowel Cleanse
Regular price
$26.00
Sale price
$34.00
7 days;  Multi-Systems Cleanse Formula + Colon Cleansing Formula + Lifestyle Cleansing Nutritional Guide.
The main cause of all Degenerative diseases is an overload of toxins in our body.   
A regular seasonal Cleanse is a wise thing to do, to get you back in balance and Enjoy healthy Life. 
What do I get from a 7-day ReCleanse:   Light and Energized feeling,  Better Sleep, Less Stress, ( Internal Stress projects out, mind and emotions get entangled and thinking gets disturbed ) over all a clean feeling inside out. 
---
More from this collection