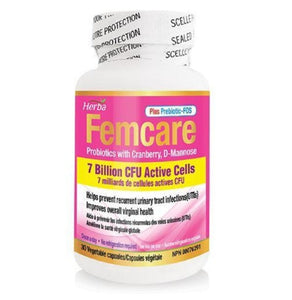 Organica Shopping Centre
Femcare Probiotics with Cranberry 30 Veg Caps.
Regular price
$26.00
$0.00
Herba's Femcare Probiotic is designed to help prevent recurrent urinary tract infections (UTIs) and improve overall vaginal health. The Femcare Probiotic is made with the potency of 7 Billion CFU/capsule. The formulation provides a combination of vaginal microflora along with cranberry powder and d-mannose.
The probiotic strains in this product are gut-friendly, fermented from a superior mother culture, and are very stable without a need for refrigeration, and they also have high acid and bile resistance. This is a plant-based prebiotic, fructo-oligosaccharide (FOS), a fiber that promotes colon health and improves the performance of probiotics.
Cranberries contain a unique phytonutrient known as A-type proanthocyanidins or condensed tannins. Research has shown that the high level of antioxidant proanthocyanidins (PACs) in cranberries helps prevent certain bacteria from sticking to the urinary tract walls.

D-mannose (or mannose) is a type of sugar found in a number of fruits and vegetables. It is known as a natural way to prevent a urinary tract infection (UTI) or bladder infection.


Directions: 
Adults (18+) may take 1 capsule before breakfast in the morning as a dietary supplement or as recommended by a healthcare practitioner. It is recommended to take Femcare at least 2-3 hours before or after antibiotic effects.
---
More from this collection