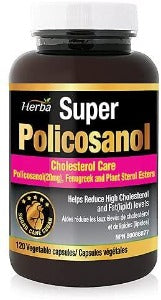 Organica Shopping Centre
Super Policosanol, 120 Vegan Caps.
Regular price
$34.00
$0.00
Herba's Super Policosanol is a  natural supplement that supports healthy levels of blood cholesterol and general heart health. It is a unique blend of Policosanol, Fenugreek, and Plant sterol esters, which help significantly to lower overall cholesterol levels and reduce the risk of common cardiac functions and ailments.

Benefits of Herba's Super Policosanol include:
Reducing elevated blood lipid levels/hyperlipidemia
Regain healthy glucose levels
May help promote milk production/secretion (For new mothers)
Increasing appetite
Can be used as a mild laxative and/or digestive tonic.
May help relieve excess mucous of the upper respiratory passages (anti-catarrhal)
May relieve dyspepsia and gastritis
---
More from this collection