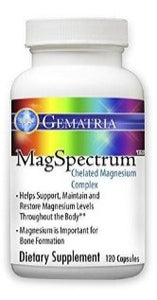 Organica inc. - Gematria.ca
Mag Spectrum 120 Caps
Regular price
$30.00
Sale price
$34.00

Gematria's Mag Spectrum is composed of a combination of amino acid chelates of magnesium that delivers magnesium to all the cells in the body, while also giving an extra boost to the cardiovascular, cognitive and immune system as well as the body's muscular system. Magnesium is one of the most important minerals in our bodies and it is also a very common deficiency.
Gematria's Mag Spectrum is recommended for:
Muscle pain and functions

Cardiovascular health and function

Improving memory

Improving and maintaining good energy levels

Improving and maintaining bone health


Improving sleep
Directions: Two capsules, twice daily is the recommended daily allowance or take as directed.
About Gematria
Gematria Products, Inc., based in Carlsbad, CA, creates ultra-quality dietary supplements with Qi Technology. The Qi Technology developed by Dr. Todd Ovokaitys, is an electromagnetic resonance technology that enhances the bioavailability of nutritional molecules to their most natural form. The body recognizes, accepts, and assimilates the molecule more readily for greater impact on the body.
Organica inc is the only Canadian supplier of Gematria Products. 
---
More from this collection