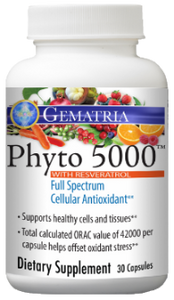 Organica inc. - Gematria.ca
Phyto 5000 30 Caps
Regular price
$41.00
$0.00
Gematria's Phyto5000 is a fantastic new anti-aging, anti-oxidant formula.
Anti-oxidant power is measured in ORAC units or Oxygen Radical Absorption Capacity - the gold standard of measuring anti-oxidant power. It is generally recommended that you consume at least 3000 to 5000 ORAC units per day - equivalent to 5 to 9 servings of fruits and vegetables. Phyto5000 provides 42,000 units of anti-oxidant power per capsule and more.
Some of the many benefits of taking Gematria's Phyto5000 regularly include:
Promoting cardiovascular health, and healthy blood sugar levels
Protection against free radical damage
Supporting personal diet regimes
Promotes healthy skin and vision
Supports healthy brain function and mental clarity
Promotes urinary tract health
Phyto 5000 can be used by anyone but it is especially recommended to:
Everyone who isn't getting the recommended 5 or more servings of fruits and vegetables a day
Athletes who have increased levels of free-radicals due to aerobic exercise
Dieters who may not be ingesting significant levels of beneficial anti-oxidants
Anyone interested in healthy, natural anti-aging support
Busy students
Directions: Take 1 capsule daily by mouth.
About Gematria
Gematria Products, Inc., based in Carlsbad, CA, creates ultra-quality dietary supplements with Qi Technology. The Qi Technology developed by Dr. Todd Ovokaitys, is an electromagnetic resonance technology that enhances the bioavailability of nutritional molecules to their most natural form. The body recognizes, accepts, and assimilates the molecule more readily for greater impact on the body.
Organica inc is the only Canadian supplier of Gematria Products.
---
More from this collection